Espan® 470
AVAILABLE NATIONWIDE.
espan® has been designed for style and performance in mind and is Metalcraft roofing's new standing seam roof profile. The high ribs create strong defined shadow lines and combined with concealed fixings provide for superior weather performance.
3D render showing espan 470 profile: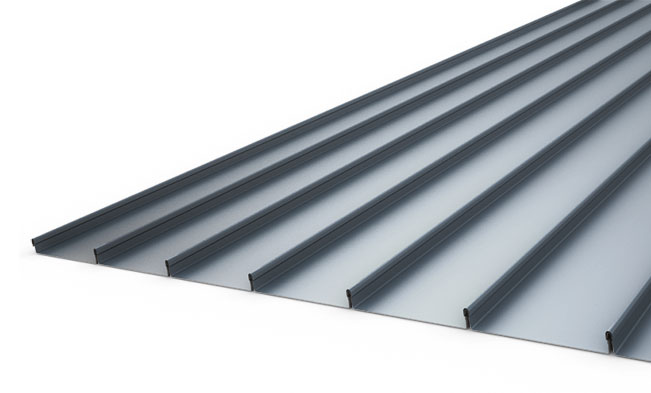 Profile

| | |
| --- | --- |
| Please Note: | Dimensions are nominal and may vary with changes depending on material |
| Cover Width: | 470 mm |
| Sheet Width: | 484 mm |
| Minimum Pitch: | 3° (minimum pitch will increase depending on sheet lengths - please refer to information sheet.) |
| Application: | Residential and Commercial |
| Orientation: | Roofing and Vertically Laid Cladding |
| Availability: | Available from all Metalcraft Roofing branches. |
| Material Options: | Colorsteel® Endura®, Colorsteel® Maxx®, Aluminium, for other please ask your local branch. |
Oil Canning
Oil canning is an inherent characteristic of gauge cold formed metal products, particularly products with broad flat areas like Espan®. It is seen as waviness or distortion in the flat surfaces. Oil canning does not affect the products strength or performance . The architect, builder and homeowner needs to be aware that oil canning may affect the overall aesthetic outcome. Oil canning may occur during the roll-forming process and or during installation and where thermal expansion occurs. Please refer to MRM NZ Metal Roof and Wall Cladding Code Of Practice - Section 2.3.5 for more information. (www.metalroofing.org.nz). Refer also to MBIE -Guide to tolerances, materials and workmanship in new residential construction 2015 which advises oil canning is a common occurrence with products which have standing seams or wider profile patterns. This is not considered a defect and will become less apparent with weathering. The end result of the profile is dependent upon the quality of the timber substructure that supports it so it is critical that the roof purlins be square and level for optimum results.
Solar Laminate panels available for Espan 470
PV solar laminate strips are another alternate method of energy collection. The 136W laminates come in 5486mm fixed lengths that have a durable adhesive backing so that they can be laid directly on to the roof sheet. This system is best suited to Metalcraft Roofing's espan™ 470 profile that has a flat pan with no suages which allows the laminate to achieve best adhesion and form a water tight seal. For more information on PV Solar Laminates please click here.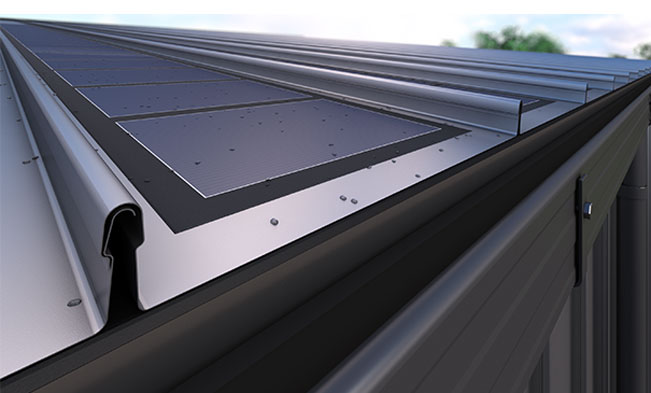 THE COLORSTEEL® RANGE
All colours are available in COLORSTEEL® ENDURA® and COLORSTEEL® MAXX®. Please note colours below are indicative and we recommend you request a steel colour sample from your nearest Metalcraft Roofing branch.