CROSS SECTIONAL LINE DRAWING

Espan® 470
Innovative Profile

Espan® has been designed for style and performance in mind and is Metalcraft Roofing's new standing seam roof profile. The high ribs create strong defined shadow lines and combined with concealed fixings provide for superior weather performance.
Profile Cover Width (Nominal)

470 mm
Sheet Width (Nominal)

484 mm
Minimum Pitch

3° (minimum pitch will increase depending on sheet lengths - please refer to information sheet.)
Standard with 2 swages in pan

Roofing: espan® 470 is manufactured standard with 2 swages, in the pan. The swages are discreet and provide for extra rigidity and strength; this is important in reducing the prospect of wind driven roof noise. The swages also assist with making oil canning less evident.
Flat Pan suitability

Flat Pan option available when installed at same time with Metalcraft's Solaflex Laminates or when installed as a vertical wall cladding. When a Flat Pan option is desired for roofing applications in Low to Very High wind zones, approval from Metalcraft Roofing is required. Flat pan option is not suitable for projects with Extra High or SED classifications. Refer to Product Selector in download section for more information.
Orientation

Roofing and Vertically Laid Wall Cladding
Availability

Available from all Metalcraft Roofing branches.
Material Options

Colorsteel® Endura®, Colorsteel® Maxx®, Aluminium also available.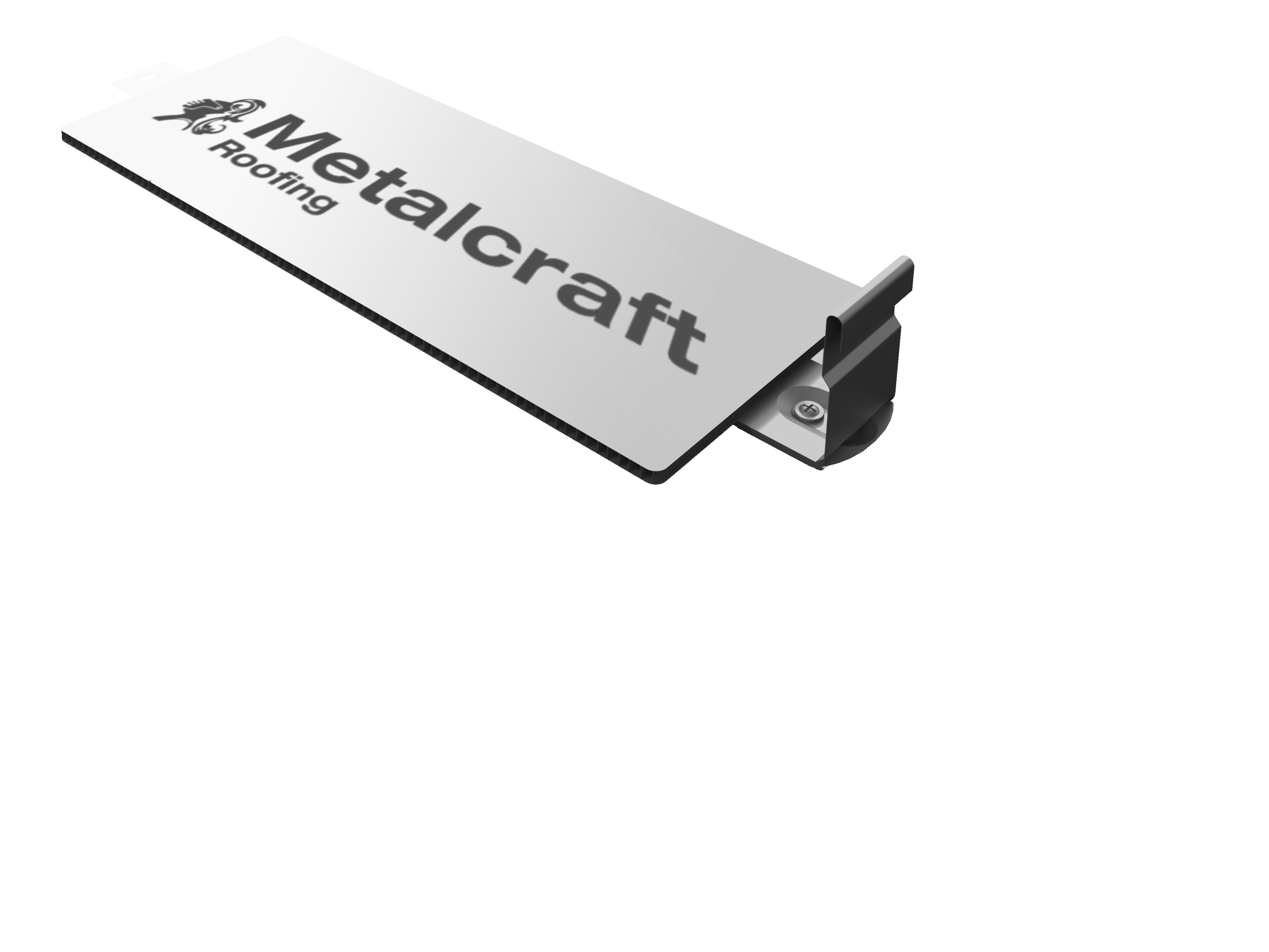 INNOVATIVE CLIP ELIMINATES NEED FOR A SUBSTRATE
Espan® has a unique clip system that allows for concealed fixings. The Espan® roofing simply locks onto the clip and allows for superior weather performance as it eliminates the need for fixing penetrations through the pan.
Another great benefit of the clip system is that Espan® has great spanning capabilities and eliminates the need for an often expensive substrate.
The clips are fixed directly onto the purlins at recommended spans depending on thickness and wind loadings.
The clip is manufactured from Zincalume® and comes standard with a 4mm coreflute pad that acts as a separator and cushion. The coreflute can be replaced if required.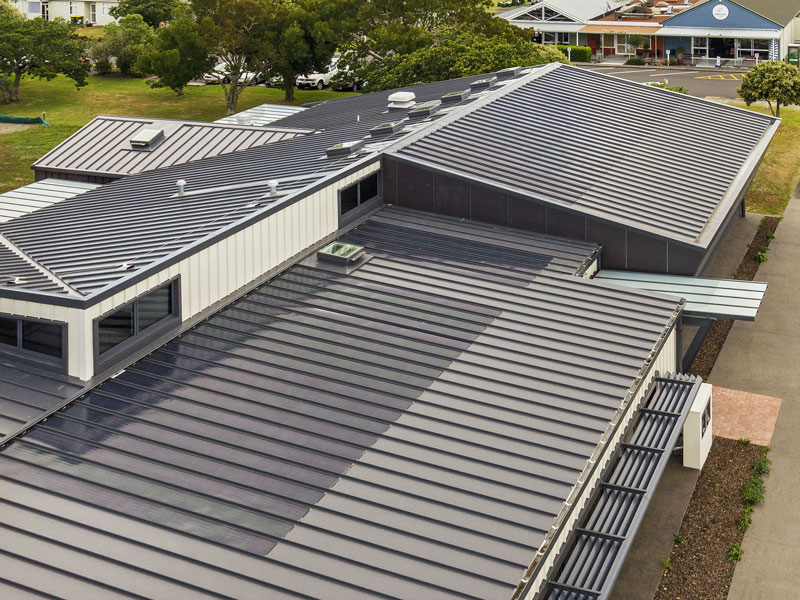 SOLAR PV LAMINATES COMPATIBLE WITH ESPAN 470
Photovoltaic (PV) Solar Laminate strips are an innovative product offered exclusively by Metalcraft Solar to complement its espan470 roof system. This is an alternate form of technology, which comes in the form of a flexible strip with an adhesive backing that adheres directly to the roof surface.
Because the height of a strip is only 2.5mm and sits directly on the pan of the roof sheet, this technology offers significant aesthetic benefits as the array becomes virtually invisible on the roof in contrast to conventional solar modules that are mounted on a rail system atop the highest point of the roof profile. On a dark coloured roof they are usually very hard to spot from the ground at all because the vertical ribs of espan conceal them; yet there is sufficient clearance from the ribs to minimise the risk of shade affecting output.
This is only compatible with Metalcraft's espan470 roof profile as the substrate must be flat with no swages to achieve best adhesion and to prevent water ingress under the strips. PV Laminates can be fitted to both Endura or MAXX paint grade coating systems without compromising the NZ Steel material warranty.
Find out more about PV solar Laminates
THE COLORSTEEL® RANGE
All colours are available in COLORSTEEL® ENDURA® and COLORSTEEL® MAXX®. Please note colours below are indicative and we recommend you request a steel colour sample from your nearest Metalcraft Roofing branch. The homeowner should be aware that temperatures of dark colours are higher than those of lighter colours. Darker colours will thermally expand more. Thermal expansion of metal roofs is covered in the MRM Code of Practice. The MBIE document on roof cladding advises that noise from thermal expansion is normal and should be expected. Refer to MBIE -Guide to tolerances, materials and workmanship in new residential construction 2015.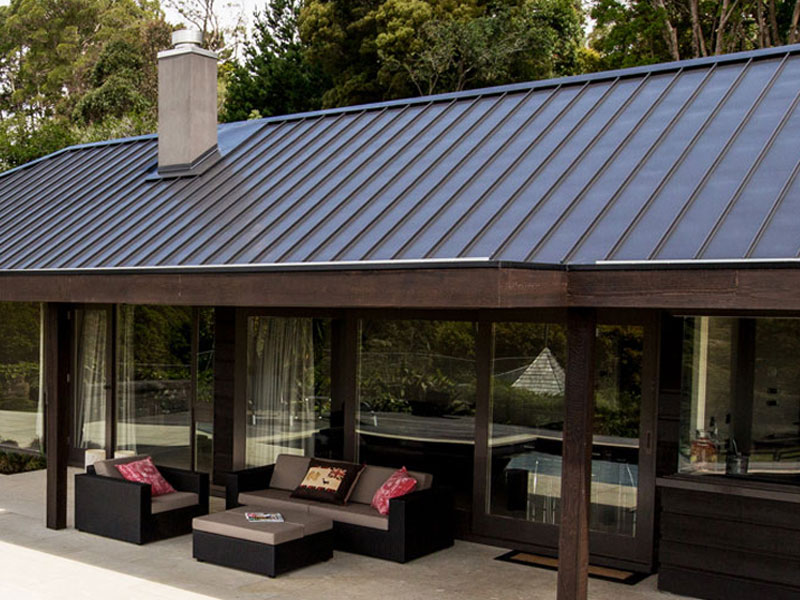 OIL CANNING
Oil canning is an inherent characteristic of gauge cold formed metal products, particularly products with broad flat areas like Espan®. It is seen as waviness or distortion in the flat surfaces. Oil canning does not affect the products strength or performance . The architect, builder and homeowner needs to be aware that oil canning may affect the overall aesthetic outcome. Oil canning may occur during the roll-forming process and or during installation and where thermal expansion occurs. Please refer to MRM NZ Metal Roof and Wall Cladding Code Of Practice - Section 2.3.5 for more information. (www.metalroofing.org.nz). Refer also to MBIE -Guide to tolerances, materials and workmanship in new residential construction 2015 which advises oil canning is a common occurrence with products which have standing seams or wider profile patterns. This is not considered a defect and will become less apparent with weathering. The end result of the profile is dependent upon the quality of the timber substructure that supports it so it is critical that the roof purlins be square and level for optimum results.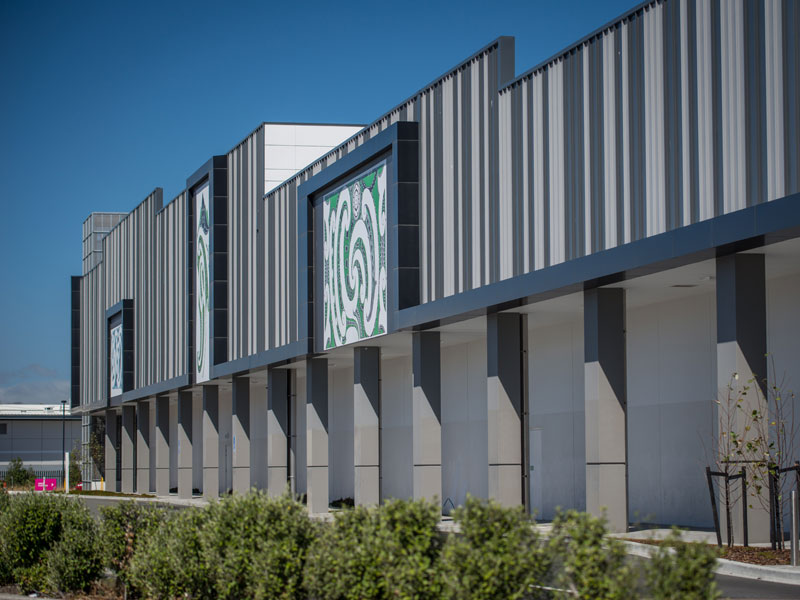 FLEXIBILITY WITH DESIGN
Both Espan 340 and Espan 470 can be interlocked together allowing for greater design flexibility as demonstrated on Hornby Shopping Mall in Christchurch.