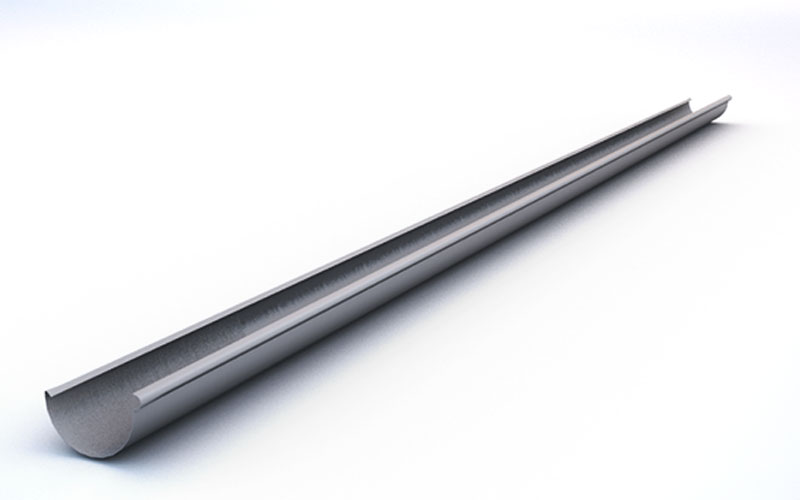 Half Round Gutter
Cross Sectional Area

5650mm²
Availabilty

Manufacturing Locations: Christchurch. Available from all Metalcraft Roofing branches.
ABOUT

Half Round Gutter adds class and distinction to the eave line of any dwelling. Half Round Gutter looks great with profiled Longrun or Tile roofing. External brackets available. Available in Zincalume®, Galvsteel®, Colorsteel® Endura® and Colorsteel® Maxx®.
Installation details available for download in PDF, DWG, DXF & RVT files
Half Round Gutter Datasheet
Environmental Categories Brochure
Colorsteel Colour Brochure
Half Round Gutter Datasheet
Roof Drainage Guide
Environmental Categories Brochure
Colorsteel Colour Brochure
THE COLORSTEEL® RANGE
All colours are available in COLORSTEEL® ENDURA® and COLORSTEEL® MAXX®. Due to high demand a limited colour range is being offered as per below. These colours will be reviewed in August 2022. Please note colours below are indicative and we recommend you request a steel colour sample from your nearest Metalcraft Roofing branch. The homeowner should be aware that temperatures of dark colours are higher than those of lighter colours. Darker colours will thermally expand more. Thermal expansion of metal roofs is covered in the MRM Code of Practice. The MBIE document on roof cladding advises that noise from thermal expansion is normal and should be expected. Refer to MBIE -Guide to tolerances, materials and workmanship in new residential construction 2015.