Earthship - Solar
Metalcraft Solar was involved with an innovative sustainable building project in the Coromandel called an 'Earthship', one of the first of its kind in NZ. The television show Grand Designs NZ documented the project on its first season on Kiwi airwaves.
The home is called an Earthship because it's designed as a self-sufficient vessel with its own systems for managing heat, water and power. It consists of mud brick earth-rammed walls, re purposed car tires and discarded glass bottles. The whole building is vacuum wrapped to keep moisture out and insulated to assist with temperature control. Greywater is filtered and either reused to flush toilets or diverted to support a tropical garden, raised planters with household herbs and a worm farm.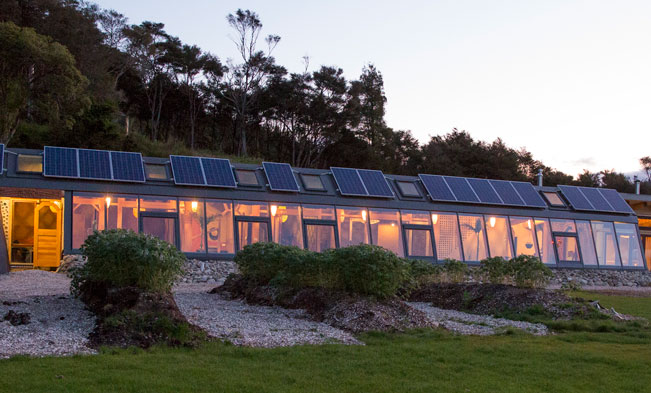 Metalcraft was engaged for their unique ability to provide roofing AND solar services which are both integral components of the sustainable properties of this type of structure. Given the unusual nature of this project, having a single supplier that was able to provide a unique complementary roofing and solar solutions was critical to the successful implementation of the roof/solar elements.
The client chose a Metalcraft Thermospan insulated panel roof for its efficiencies in terms of insulation, construction and cost, because this roofing solution also provides the insulation and internal ceilings in one action. Solar generated energy is another vital component to the Earthship operating principles. The North facing brow roof was designed to optimize the solar generation potential in terms of pitch and orientation, however the clients late addition of skylights to the original plan required changes to the solar array.
Using Enphase Microinverters was the most appropriate choice for this project given the unique site conditions, and also facilitates up-scaling with additional panels and integrating batteries in the future as was the clients intention. The system ultimately consisted of 17 x 250Watt modules supported by Enphase microinverters, to give an array size of 4.25kW overall.