Tent House
This house by Chris Tate Architecture and photographed by Simon Devitt is a stunning example of how metal cladding can contribute to the aesthetics of design.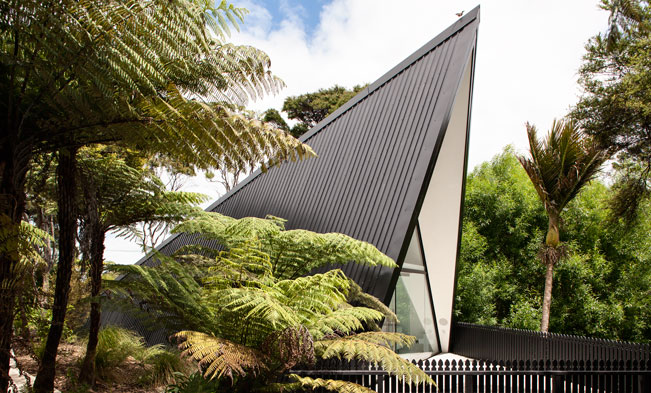 This house is Chris Tate's most recent project, on Waiheke and is his pad, a place to work, a shelter. Now affectionately known as 'The Tent', it resembles a giant cicada, hunched and ready to spring, although as buildings go, its footprint is small. Chris built it for himself so there was no pressure. "It simmered for five years in the design phase, took two to build and another one to do the finishing," he says.
While each project 'simmers' Chris keeps to the forefront the question: how is it going to look when it's finished? An essential point of design is the way the house is set into the landscape and, through the eyes of an artist, he considers this, along with the weather, competing elements, privacy and how it will relate to neighbours and to the environment. He also visualises the interior, the fittings and the furniture. He goes back repeatedly to his check list. "The conceptual process is simple but it's easy to go off track."
The Tent looks simple too, which is how Chris wanted it: stark; uninviting, even. Clad in an elegantly fine-ribbed Metalcraft Metrib 750 roofing profile in black COLORSTEEL®, it squats low at the back, widening to thrust seven metres high at the front.