PV Solar Laminates
PV Solar Laminate strips are another method of collecting energy from the sun offered by Metalcraft Solar. This is an alternate form of Photovoltaic (PV) technology, which comes in the form of a flexible strip with an adhesive backing that adheres directly to the roof surface. However, this is only compatible with Metalcraft's espan470 roof profile as the substrate must be flat with no swages to achieve best adhesion and to prevent water ingress under the strips. In order to validate your NZS warranty, MAXX grade paint finish is necessary. This product is not compatible with microinverters. Because the height of a strip is only 2.5mm, this technology offers significant aesthetic benefits as the array becomes virtually invisible on the roof in contrast to conventional solar modules that are mounted on a rail system above the roof surface. On a dark coloured roof they are usually very hard to spot from the ground at all.
The dimensions of our standard 265W strip are 5,923mm x 370mm, and these dimensions cannot be altered. Therefore the minimum roof sheet length required is 6.0 metres. However this product could also be used on vertical wall cladding sheets as an alternate option. They are very durable so they can withstand foot traffic without risk of damage, and are known to perform better in low roof pitch conditions than conventional crystalline solar modules. This product is supported by Metalcraft's standard 5-year workmanship warranty, and also a 10/25-year output warranty which means 90% output after 10 years and 80% output for the following 15 years.
We have completed both residential and Commercial scale projects using the PVL product type with very successful outcomes and very happy clients.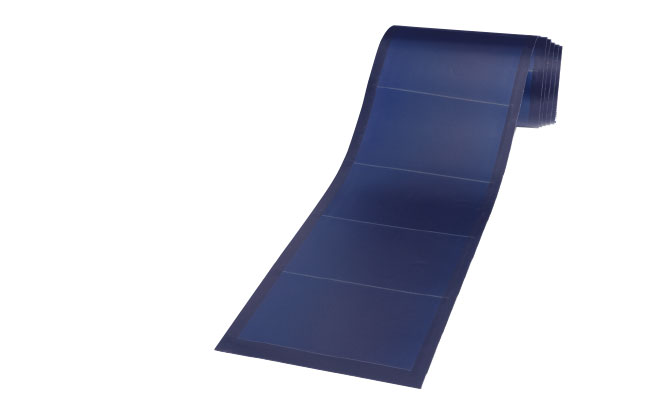 Compatible roof profiles: espan™ 470 profile.
Indicative 3D render showing PV laminates on espan 470mm wide profile.