System Monitoring
To preview an example of the System Monitoring of Metalcraft Roofing solar panels please click here. (Requires Abode Flash to work- download here)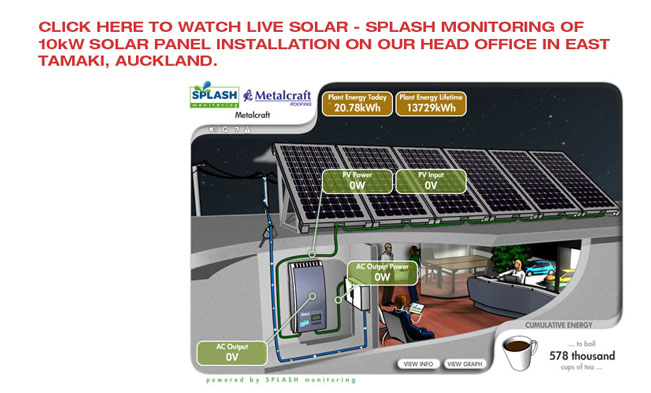 It is useful to be able to monitor how the Solar array is performing against theoretical forecasts of output. Inverters are supported by reporting systems developed by the manufacturer that monitor and log data of actual energy generated.
These software packages allows owners to use a PC or mobile device to view live data, or to generate reports on historical performance for any given date range. Most systems will also send an alert to customer and the Solar provider if it detects a fault or if production dips significantly below the anticipated figures.
The Inverter manufacturers' include free software (no ongoing subscription fees) that provide generation data, and some that have extra functionality that will also monitor energy consumption trends within the home. This is valuable data for those planning to integrating a battery solution of some kind into their Solar system at a later date; without that, it is easy to oversize battery capacity which incurs unnecessary capital outlay and a linger return on investment period.
In recent times some energy retailers have also stated to offer comprehensive monitoring solutions that can provide a very high level of detail for close analysis. For example, Mercury offers the GEM for Solar' monitoring package which overlays that data to present it in an easy to digest format.
Here are some examples that you can view online
Metalcraft Head Office, Auckland – Mercury 'GEM for Solar' Monitoring.
          10kW array consisting of 40 x 250Watt modules (tilt mounted), & a 10kW Steca Three phase String Inverter.
          https://mercury.solaranalytics.com/dashboard/
Metalcraft Christchurch – SMA Inverter, 'Sunny Portal' Monitoring.
          37.44kW consisting of 144 x 260W Modules & 2 x 20kW SMA String Inverters
          https://www.sunnyportal.com/FixedPages/Dashboard.aspx
          10.0kW consisting of 40 x 250W Modules with Enphase MicroInverters
          https://enlighten.enphaseenergy.com/mobile/576390/history/graph/hours