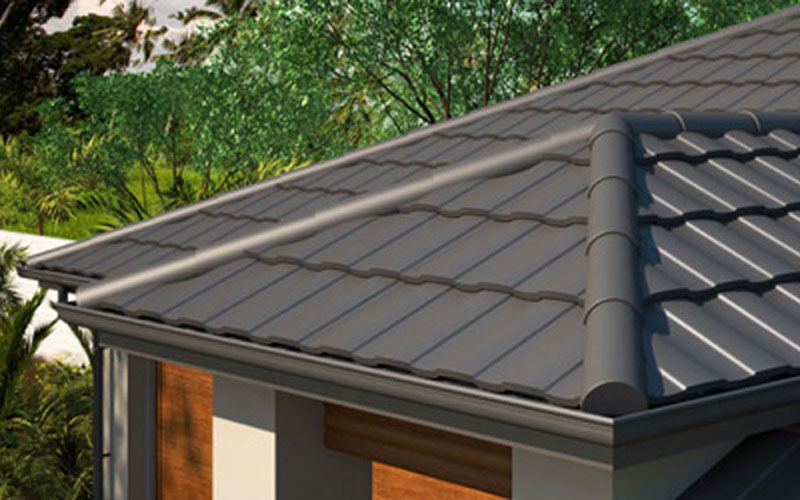 PLAN DRAWING

Modena Metal Tile
About

The Metalcraft 'Modena' Tile is the latest addition to our range of metal tiles and accessories. The Modena Tile is the result of an extensive research, analysis and design process to produce an attractive, functional and durable lightweight tile.The Modena Tile is an eye-catching option that affords the look of a heavyweight tile roof but eliminates the extra costs of reinforced roof trusses necessary for heavyweight roofing.
Steel Gauge

0.39 G300 Colorsteel Endura
Weight

Weight (painted): 2.1kg (chip coated): 3.3kg
Options

Pre painted Coloursteel Endura and Chip Coated
Tiles per m2

2.26 Tiles per m2
Availabilty

All Metalcraft Roofing Branches
Installation details available for download in PDF, DWG, DXF & RVT files
Product Technical Statement
Masterspec Specification Link
Information Brochure
Loadspan and Fixings
Installation Details
Product Technical Statement
Installation Guide
Masterspec Specification Link
COLORSTEEL® COLOUR RANGE FOR TILES
All colours are available in COLORSTEEL® ENDURA® Please note colours below are indicative and we recommend you request a steel colour sample from your nearest Metalcraft Roofing branch. Chip coating is also an option please refer to information brochure.
GREY WACKE (Sandstone Grey)
STORMY SKY (Windsor Grey)