MetecnoSpan (PIR)
Metecnospan has a PIR Core. It is a lightweight panel system incorporating a trapezoidal external roofing product manufactured in 1000mm cover panels for roof systems with a minimum pitch of 3 degrees. Unlike single skin metal roof profiles, the strength of panel construction permits exceptional spans requiring fewer structural supports.
Indicative 3D render image of Metecnospan PIR  below: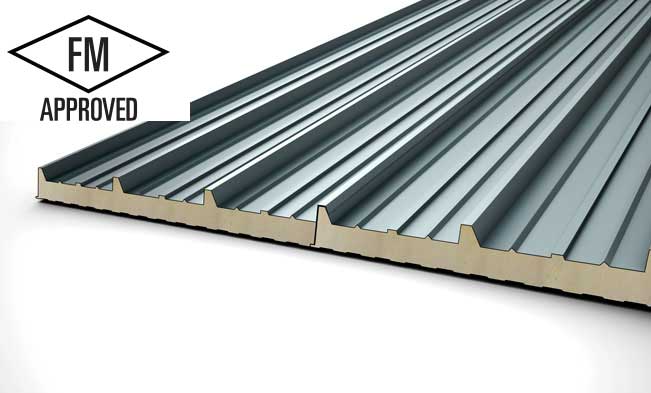 The composite sandwich panel construction also maintains insulation values, which aids in preventing condensation. Metecnospan is manufactured from New Zealand Steel coil and offers a choice of colours for the external skin. Metecnospan panels are available in a range of thicknesses as well as three different finishes for the internal face. Metecnospan can be used in either wall cladding or roof applications.

Durable and aesthetically attractive, Metecnospan wall and ceiling panels provide high thermal resistance, mechanical resistance and dimensional stability. It is available in sheet lengths to a maximum of 11.9m. For projects with longer roof runs, it can be either "end lapped" in one plane or "stepped: forming a superior expansion joint. 
Metecnospan® is suitable for a wide range of developments including supermarkets, bulk goods, fast food and retail outlets as well as commercial and industrial premises. It is ideal where superior thermal performance and FM approval for insurance purposes is required. 
Code Of Practice
Metalcraft Roofing is a member of the New Zealand Metal Rollforming Manufacturers Association (NZMRM). The MRM has produced a Code of Practice which is an excellent technical resource providing a comprehensive overview of everything to do with metal roofing. To get a copy of the Code of Practice go to www.metalroofing.org.nz or download the free copy below.

Download Code of Practice